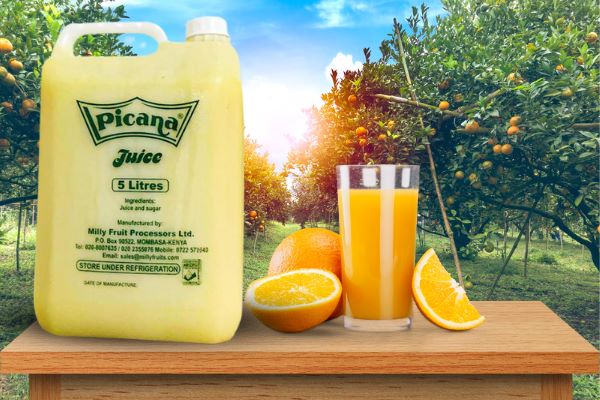 Picana Orange 5L
Our natural orange juice, Picana Orange, is proud to exclusively use juicy and fresh Kenyan oranges in our juice. We carefully select and hand-squeeze the oranges at their peak ripeness to ensure that every jerrican of our juice is bursting with flavor and nutrition.

We take pride in supporting the local Kenyan economy by sourcing our oranges from Kenyan farmers. Our juice is made with care and attention to detail, ensuring that every 5 litre jerrican is of the highest quality.

Picana Orange is the perfect addition to any restaurant's beverage menu. Our natural orange juice is a refreshing and flavorful option that pairs well with a variety of dishes. It's a great alternative to sugary sodas and artificially flavored drinks.

Experience the delicious taste of Kenyan oranges in every sip of our natural orange juice, now available in 5 litre jerricans for your restaurant's convenience. Order now and give your customers a taste of the best of Kenya.